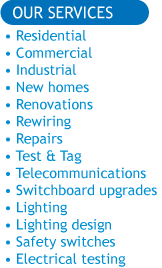 Phillip Island Electricians
When you need a Phillip Island electrician that you can be certain is the best in the business, we are here to take your call.
Don't take pot luck. Choose the team that comes highly recommended.
What do you demand from your electrician? We are known across Phillip Island for a number of things. Firstly, and most importantly, is our work standard. Our expertise covers residential, commercial and industrial jobs. We do rewiring, testing and tagging, and safety switches. We are 100% fully compliant with Australian standards and our practise exceeds licensing requirements.
Next comes our reputation for customer service. Our business thrives when we have happy customers. This type of satisfaction comes from the confidence our customers get from having their Phillip Island electrician arrive when they agree to, complete the work they have committed to, and treat your home or place of work with the respect you expect.
Finally, we are the local guys. We don't hide behind a corporate banner. We're not just another generic franchise. We're your local business and so we know Phillip Island and what you need from your electrician. Don't muck around – you know who to call. Pick up the phone and we'll have a chat about finding the most workable solution for your requirements and budget.
Not only do we cover everything electrical, we can supply and install a split system air conditioner to suit your needs or budget.
Choosing the right system is a big decision, and it is all contingent on your unique situation. Finding the right solution isn't as simple as browsing the specials – you need the right expert advice or you'll wind up paying through the teeth for years to come.

So call the electrician that is known across Phillip Island on 0418 574 974. We're here to help!
Or click here to send an online enquiry.